HeartwoodBirdhouseOutlet.com is very pleased to offer
Heartwood Architecture for the Birds
Heartwood's story began some 20 years ago in the small, friendly town of Star, Mississippi, when two brothers began the odyssey that transformed them from builders of homes for people into builders of homes for birds.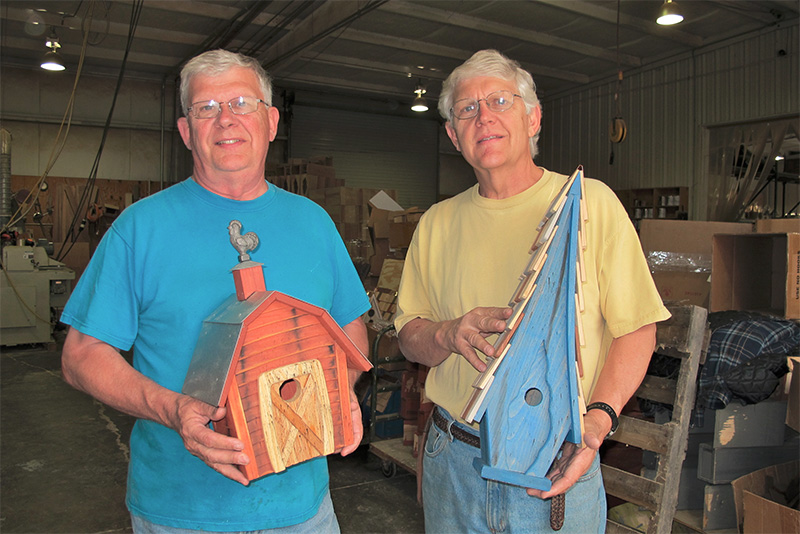 Brothers Jerry and Larry Glass
Heartwood Means GREEN:
At Heartwood, when we say we're green, we mean it. Heartwood doesn't cut corners, and we don't cut trees. Ever. We keep our carbon footprint small, and because all our manufacturing is done right here in America, you can be sure our paint and materials are 100% safe for wildlife. Today, global warming and deforestation have put migratory songbirds in dire peril. At Heartwood, we're committed to creating safe sanctuaries, with our homes and with green manufacturing that helps make the whole world safer and more eco-friendly for the earth's most precious creatures.
When it comes to preserving forests,we run rings around the competition.
Most of our competitors construct houses from western red cedar or eastern white pine, both of which must be cut and hauled from Canada, thousands of miles away. But at Heartwood, our ingenious manufacturing process is "wood wise" and low carbon, utilizing short pieces of cypress and mahogany that would otherwise be discarded or used to fire kilns. Our lumber suppliers are within a 2-hour drive, providing jobs here at home while keeping our carbon footprint minimal. And as a domestic manufacturer, we keep all our shipping right here in the U.S.
Heartwood cypress:
FSC certified natural wonder. In addition to boasting a beautiful grain and coloring, cypress is naturally rot and decay-resistant, as well as naturally regenerating. When a tree is harvested, the stump automatically regenerates a new sapling; saplings also sprout from the root system of a healthy adult tree. While this helps protect cypress from over cutting, we take the extra step of purchasing only cypress that has been harvested in accordance with FSC (Forest Stewardship Council) guidelines. Most importantly, we use only short pieces of lumber, 4-6' long, which would otherwise be chipped and burned. These pieces are all kiln-dried and NHLA inspected and certified. Even the chips and sawdust we produce as waste go into garden mulch, to deteriorate naturally and add nutrients to the soil.
Guilt-free mahogany.
Everyone appreciates the beauty and durability of mahogany furniture, but behind that beauty is an impossible standard of perfection: normal manufacturing requires that 16' boards be completely free of defects. That means a lot of rejects, which in turn meant an opportunity for when we were able to purchase a substantial supply of salvage stock. Today, mahogany homes are the only mahogany birdhouses in the world, yet we didn't cut a single tree. That's true beauty!
Color us green– even when we're gray.
Heartwood paint is 100% acrylic latex, which is completely non-toxic, and with our manufacturing process right here at our headquarters in Mississippi, you can be sure of our consistent eco-quality. In fact, we even transform mistakes into green opportunities, using our local paint store's stock of mis-tinted paint to create our own medium gray, the color that results naturally from mixing all colors together.
Shipping with care (and concern for trees!)
Working with a local box factory, Heartwood is able to use box over-runs made from post consumer fiber, rather than having new boxes manufactured. While this means a lawnmower ad may cover one side of the box, we think our customers appreciate the savings in costs–and trees–especially since these containers are recyclable and sturdy, with double-wall corrugation and handholds for ease and durability. Inside, our homes are packed with clean and recyclable unprinted newsprint salvaged from a large daily paper. Whether it's materials, manufacturing or shipping, at Heartwood we're always alert for new ways to help save our birds and the world they live in.
---
Jerry Glass, founder of Heartwood, spoke to the Rotary Club of rankin County Thursday at the noon luncheon held at Brandon City Hall. View photo below for more details.